Version 1.2 Released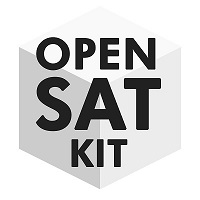 I'm pleased to announce the release of OpenSatKit (OSK) Version 1.2. The focus of this release took a turn from what was announced in November 2017.
Enhanced the 42 FSW app (f42) with configuration commands and a parameter table. The 42 simulator screen launched from the main page's <42 Simulator> button has been significantly enhanced.
Updated the 42 simulator on 2-10-18 (42 is not tagged with a version). Implemented 42's "THREEAXISFSW" controller in the f42 app. A closed loop FSW-42 simulation can be run from the 42 simulator screen.
Created COSMOS Table Manager definition files for most of the binary files created by the cFE apps so they can be displayed.
The cFE app's COSMOS command and telemetry definition were updated to consistently use underscores.
A new tutorial tab was added that is used to launch tutorials that are run using COSMOS's Script Runner. User tutorials are easily added. See the user's guide for details.
Here's a brief look at the OSK roadmap…
Complete all sections of the kit's User's Guide.
The OSK apps use text files for tables as opposed to the cFS binary files and the tables are managed by the OSK application framework (OSK_APP_FW) instead of the cFE. All of the OSK apps with tables will be converted from XML to JSON. A big driver for text tables is to simplify table management and future automation of application integration. An OSK Application Developer's Guide will also be in the next release.
Upgrade to cFE 6.6, and Ubuntu 17.x.
Create the frameworks for application unit and functional test suites.
Written on March 20th, 2018 by David McComas
Feel free to share!